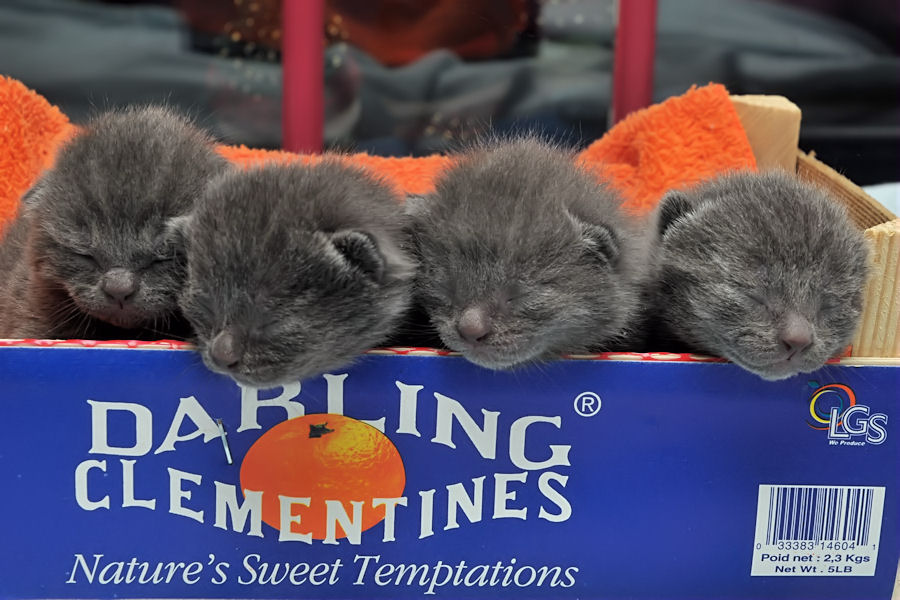 News Flash: Girls have arrived !!!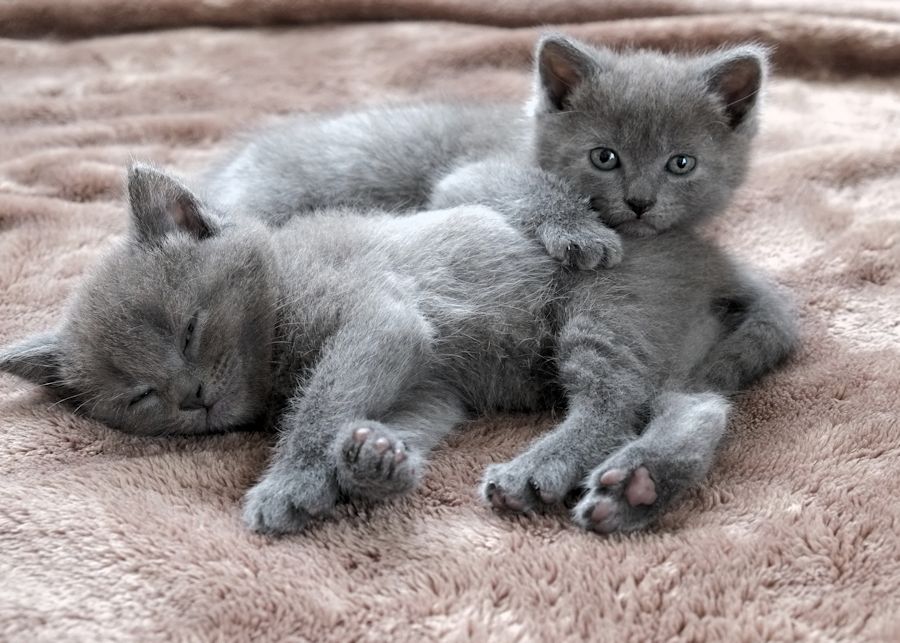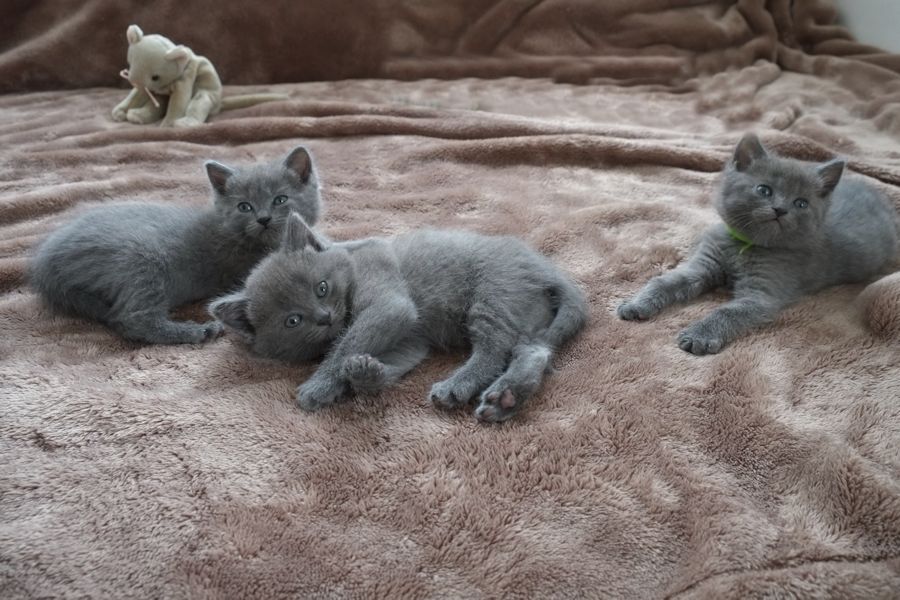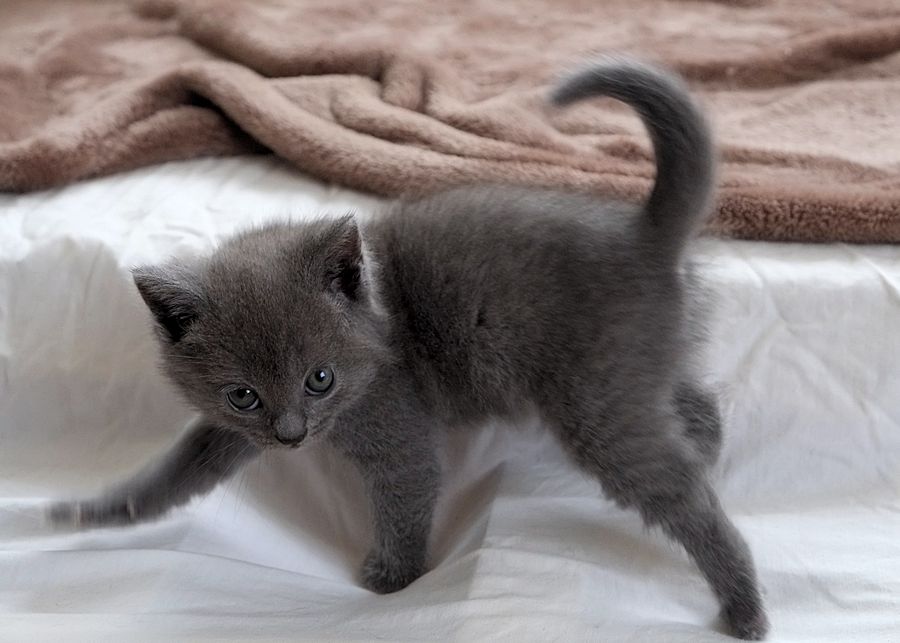 Notes from the kitten desk: When contacting us, it is always helpful to give some personal details about your life & history with pets as well as a few details about your lifestyle. It takes time to create a Chartreux kitten. I am limited by the number of kittens I can socialize at one time. It is very possible to obtain a pair of kittens from us, but what kittens we have are reserved within weeks of birth so there is a wait time between deciding to purchase a Chartreux and the actual time when the kitten(s) are shipped to you. Example: The kittens born in August/September are the only kittens I will have for the next 5 months. For this reason it is wise to reserve kittens. Sometimes you may get lucky and I will have one 'ready for you' when you inquire...but then again, maybe not. On average a Chartreux queen, according to CFA statistics, has 4 kittens in a litter. While it may take time to obtain a kitten, the other side of the equation is that the kitten(s) will bring you years of happiness. You will find that the little blue Chanson Bleu angels are well worth the wait. I only accept deposits for kittens are born or very soon to be born.
Questions? contact chansonbleu@comcast.net
2013: 'Wait lists?' It has come to my attention that many Chartreux breeders have 'wait lists' now. I have been breeding the Chartreux for ten years. The Chartreux have always been rare but until recently, this was not a common practice! I still do not use 'wait lists.' If I have kittens, it is either yes/no. We discuss the details. I accept deposits. For many breeders, 'wait list' is a filter breeders use to screen potential buyers. If you are on a wait list, you may be on a wait list for a very long time!!!
2016: Price? When I started breeding this rare breed in 2003 the cost was $750 each. As you can well imagine in 12+ years, many breeders have stopped breeding due to old age or death. Today, the cost of a well bred Chartreux kitten is double what it was in 2003. As always, buyer beware. In general, "one gets what one pays for...."
Front & center on Matthew Van Fleet's children's book: CAT!!!
Chanson Bleu Beautiful Dreamer aka "Bo Beep"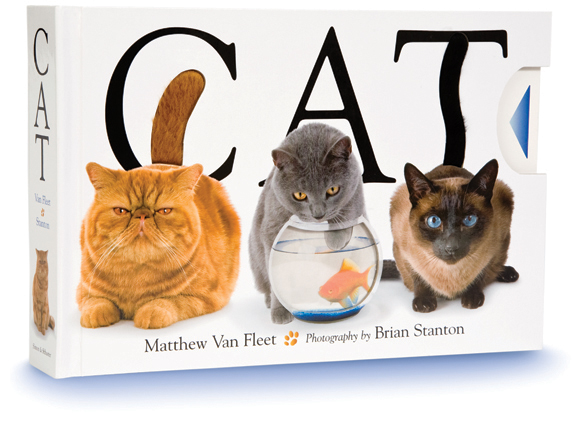 May 2010 UPDATE: Sure enough, Chanson Bleu Dr. Strangelove is one of this season's TOP TWENTY ALTERS in TICA'S Northeast Region! Thank you, TICA, for appreciating this very handsome Chartreux who was bred and shown exclusively by Chanson Bleu Chartreux!!!
Dr. Strangelove was one of our 'best' picks from the 2008 breeding season. He was BEST KITTEN IN SHOW at the Westchester Feline Club Show in November 2008. Thank you, TICA for acknowledging our work with the breed!!!! See more photos of the Doctor as an adult under Dames/Messieurs page.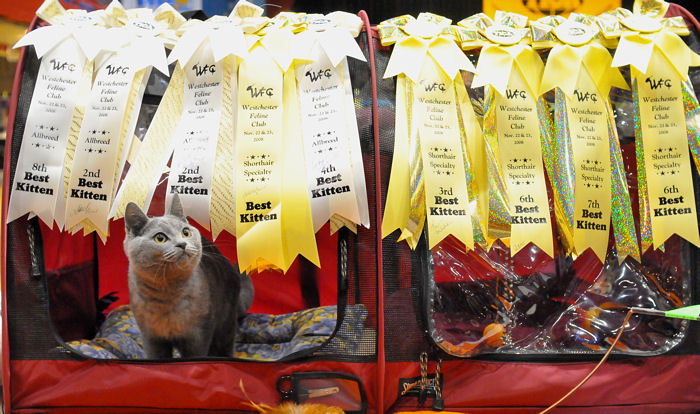 A word about pricing: At Chanson Bleu Chartreux we price our kittens according to what the fair market value is of a healthy, well socialized kitten which is also a rare breed.
If you are quoted a price which is less than ours, you may have to wait a long time for a kitten. Many breeders only breed intermittently. Here at Chanson Bleu Chartreux we use the best available cattery management techniques. We are structured to consistently produce kittens. (although summers are rest periods). We also provide the best personal care and attention to the expectant moms and the neonates. We provide a supportive environment for the Chartreux and they respond giving us the most beautiful Chartreux babies!
Regarding a discounted price: be careful. A drastically discounted Chartreux often indicates a half breed or, inbreeding (which makes the kittens vulnerable to disease). Bad temperament may be involved as well. Heartache and vet bills alone might be something to consider when looking at an inexpensive Chartreux.
Chanson Bleu Chartreux: Passionate about Chartreux, dedicated to breed preservation
The Chartreux is a natural breed. Common origin: France (since 1500's). They made their way to France during the Middle Ages. Like the Persian, the Chartreux is believed to originate in the Middle East.